Item No.: CH070806
7PCS Quick-Release Open-End Ratchet Wrench Set – Innovative Patent!
Description:
* Size: 8, 10, 11, 13, 14, 17, 19 mm
* Material : CR-V, Satin Chrome Finish
* Supplied in Plastic Reusable Storage Rack/Carry Rack
* Torque: 19mm – 231.041 Nm (55% exceeds ASME standard).
14mm – 106.560 Nm (67% exceeds ASME standard).
* Standard: DIN3113
Features:
* It is designed to compliment regular open end wrench in speed and accuracy.
* Open end with quick release enables users to tighten or loosen fasteners very fast without moving wrench from the top of the fastener's head repeatedly.
* It's not merely for fastening the original size fastener, also can fasten which is wore down and even one size down.
* Whole series of popular sizes from 8,10,12,13,14,17 and 19mm.
* With endurable drop forged Chrome Vanadium Steel and good quality Chrome plated with polished.
* Public comm. unique of patent invention announcement made.
* Torsion reach international standard.
* Dual suitability in Metric and SAE -- It can operate not only Metric hexagon headed nuts/bolts/screws, but also SAE nuts/bolts/screws that has 20% tolerance of width shortage. (For example: 19mm Wrench works on 18mm & 19mm nuts, and 3/4" nuts as well.)
* Depending on how the nut is worn out, there is 10% tolerance of diagonal shortage that Quick-Release function is still workable. Which means, users can still enjoy the speedy and efficient performances that the wrench could bring in most of the situation.
*Easy to clean.
***Quick-Release open-end type: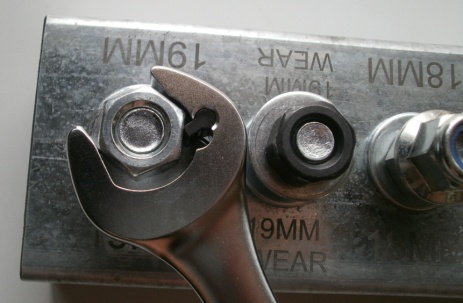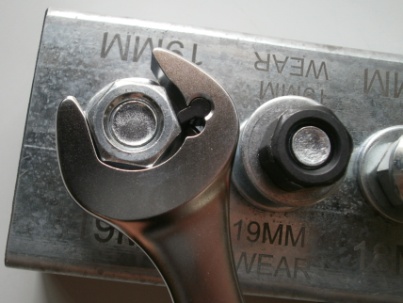 Operating comparison:
Traditional open-end wrench – operation instruction -

Quick-Release open-end wrench – operation instruction –